The 2023 Subaru Love Promise Community Commitment Award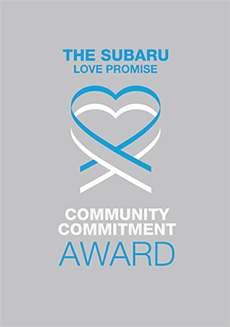 We've been nationally recognized for our dedication to our community and the Subaru Love Promise.
We're honored to receive the 2023 Subaru Love Promise Community Commitment Award. This award nationally recognizes Subaru retailers who are making the world a better place while demonstrating an outstanding commitment to supporting passions and causes in local communities. These efforts are focused in important areas such as the environment, community, health, education, and pets.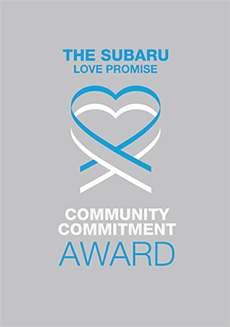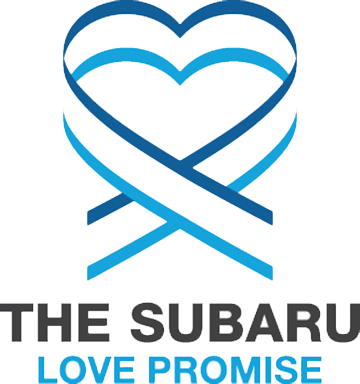 What is the Subaru Love Promise?
Subaru and our retailers believe in making the world a better place and the Subaru Love Promise is our vision of respecting all people. This is our commitment to show love and respect to our customers and to work to make a positive impact in the world.
How is Bob Baker Subaru dedicated locally to the Love Promise?
Our Love Promise can be seen in various partnerships with local charities and non-profits. We're grateful for the opportunity, not only to be a part of our community, but to serve it as well.
Rancho Coastal Humane Society
Museum of Making Music Sponsor
Community Resource Center
Love Promise Stories from Bob Baker Subaru
Subaru and Bob Baker Subaru believe in making a positive impact on the communities in which we live and work. We uphold that belief through our Love Promise Community Commitment. Every month, we select inspiring stories from customers and partners from around our area who strive to support our collective commitment and feature them here
Holiday Food Drive - Don E
Bob Baker Subaru teamed up with the North County Food Bank to provide food for the local community. Employees and customers donated over 400 pounds of everyday needed non-perishable staples in a two-week period prior to the holidays.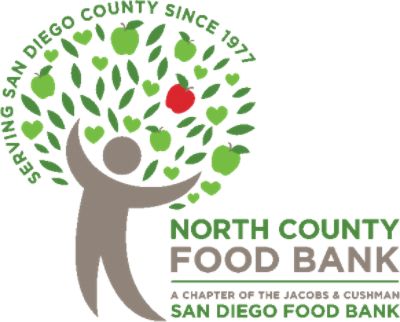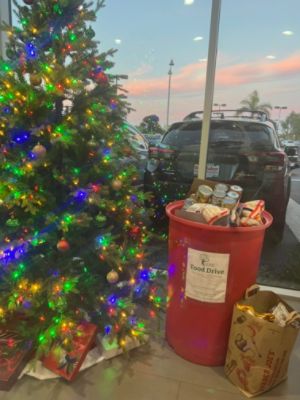 ---
Bob Baker Subaru Loves Pets - Doug D
Rancho Coastal Humane Society is proud to partner with Bob Baker Subaru on this year's "Subaru Loves Pets" Campaign. This year, that program helped more than 30 dogs and cats find their forever families. That includes dogs like Bear along with a set of Chow Chow brothers, Icepack and Refrigerator. More than 10 cats were also adopted from Rancho Coastal Humane Society this month. Among them was Freya, one of the sweetest kitties we've ever met. We are so thankful for the ongoing support of Bob Baker Subaru!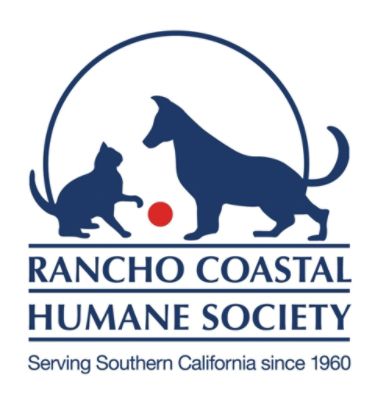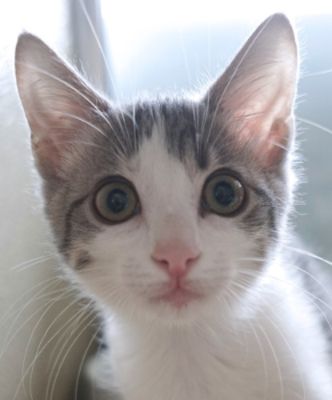 ---
SPOT Rescue says Thanks, Bob Baker Subaru! - Elaine G
On October 22, SPOT Rescue, a local, all-volunteer non-profit, had the opportunity to feature some of our UNDERDOGS at the Make a Dog's Day event at Bob Baker Subaru in Carlsbad. We were warmly welcomed and received gracious support for our team and our dogs. We're grateful for the extra attention and exposure our dogs received. They can be seen on our website SpotSavesPets.org. Look for Dawn, Deja, Prince, Paris, Junie, Venti, and Olivia Rose. Adopt one, and you'll definitely make a dog's day for one of our deserving, loving underdogs.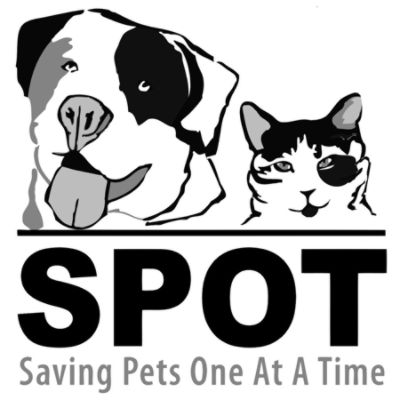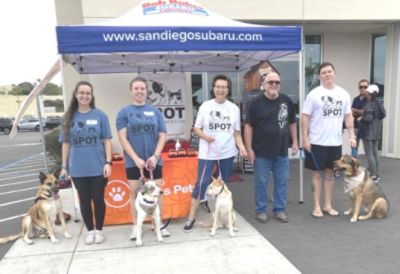 ---
Subaru Loves to Care at Tri City Medical Center - Amber S
On July 7, in partnership with The Leukemia & Lymphoma Society, Bob Baker Subaru donated 80 plush blankets and 25 arts & craft kits to Tri City Medical Center. This is the seventh year in a row that LLS has been selected by Subaru of America to carry out their Subaru Loves to Care program across the nation. Tri-City Medical Center has served San Diego County's coastal communities of Carlsbad, Oceanside and Vista, as well as the surrounding region for nearly 60 years and is one of the largest employers in North San Diego County. Bob Baker Subaru is one of the many Subaru retailers nationwide participating in the Subaru Loves to Care program. This program has allowed Subaru retailers across the U.S. to donate over 230,000 blankets and 31,000 arts and crafts kits, along with care, hope, and information about cancer support available through the LLS.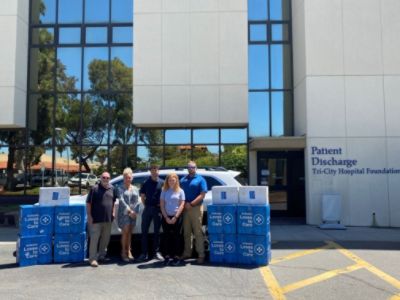 ---
Tees fore Tails - Kelly S
Rancho Coastal Humane Society just held the Second Annual Tees fore Tails golf tournament, and Bob Baker Subaru was one of our lead sponsors. They have helped to take our fundraising events to the next level, and even offered to give away a brand-new Subaru to whoever made a Hole-In-one! These fundraising events are crucial for many reasons, and Bob Baker is always there to show support. Golfers were greeted by Pet Assisted Therapy dogs, and adoptable dogs like Cowboy (the Great Dane pictured in this story). Cowboy's owners surrendered him to a shelter in Riverside County when he got too big for their apartment. He was transferred to RCHS through the FOCAS (Friends of County Animal Services) program one year ago and is still waiting for a FURever family. Being able to put on events allows us to take dogs out into the community for additional exposure, and Cowboy had a blast! Thanks to Bob Baker Subaru for helping to bring this event to fruition and providing us with opportunities to raise awareness about pet adoption!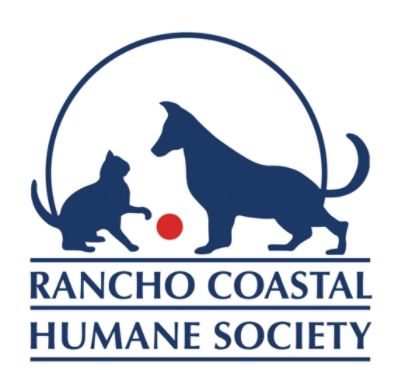 ---
Sharing the Love - Kelly P
At Rancho Coastal Humane Society, our mission is to save the lives of abandoned companion animals, which entails promoting adoption into loving homes. Bob Baker Subaru has been such an incredible supporter and has been instrumental in helping to raise awareness about pet adoption and the programs we offer at the shelter. Through the Share the Love event, Bob Baker Subaru presented Rancho Coastal Humane Society with a check for $34,000!!!! With 38 adoptions in this month alone (and the month hasn't ended), this donation will help as we continue to care for more animals until they find their forever homes.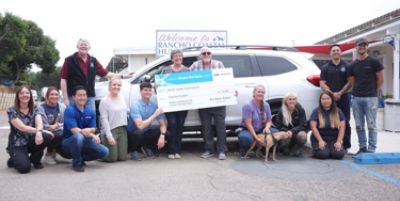 ---
Volunteering At Mission Trails - Don E
On June 18th, 2022, Bob Baker Subaru helped the San Diego Parks Department by planting and watering native plants at the Mission Trails Park. Volunteers from Bob Baker met Park Ranger Heidi Gutknecht at the East Fortuna Staging Area. After a brief orientation, Ranger Heidi kept a watchful eye as the volunteers planted an assortment of about 30 plants. After all the plants were in the ground, the volunteers then assisted the ranger's by spreading mulch around all the plants. It was a very rewarding day and a good time was had by all.
---
Helping Our Neighbors with Food, Shelter and Safety - Debbie M
Community Resource Center (CRC) is very grateful to Bob Baker Subaru for selecting us as a local nonprofit beneficiary for the Share the Love event. CRC helps our neighbors create paths to healthy food, stable homes and safe relationships. Assistance includes emergency housing, emergency shelter from domestic violence, counseling, housing stability and food to low-income individuals and families who are homeless or at imminent risk of homelessness, including domestic violence survivors. The $22,000 donation from the Share the Love event will change the lives of so many of our neighbors in need... neighbors like Lori. Lori had the ability to pay her rent but due to Covid and other health issues, she struggled to pay the two months she was behind. While trying to figure out how to pay the back rent, her family was also struggling to put food on the table. Lori came to CRC and working with a case manager, she completed the intake process and received rental assistance for the rent she owed. Lori also accessed CRC's food pantry to provide her family with much needed items, including staples such as peanut butter, soup, pasta, tuna, chicken and fruit. By not having the burden to pay the owed rent and receiving nutritious food, Lori was able to create a plan for her family to continue to pay ongoing rent and remain in their home. Because of your outreach in the community and the success of the event, your substantial donation will have an impact on so many more individuals like Lori. We could not do this work without partners like you ... Thank you for your compassion for others, for supporting Community Resource Center, and for sharing the love!
---
Leonida's Finds His FurEver Home - Kelly P
We were so excited when Bob Baker Subaru told us that Rancho Coastal Humane Society would be their chosen beneficiary for the annual October event again! As part of the event, the first 10 dog adopters would also receive a fresh-start box, full of goodies for the new adopters. And guess who was the first recipient?! Leonidas - the sweetest pit bull who was finally adopted after living at RCHS for 389 days! We are so grateful to Subaru and the Bob Baker team, who see the work we are doing and want to help in any way they can. Offering a fresh-start box to new adopters makes them feel supported by their community, which is what it is all about. A note from the adopters: "Leonidas is doing great! He's sniffed up the whole house and property, is learning and is very respectful, he chewed up one of his chew sticks, relaxed with us on the couch last night, slept next to our bed on his little mattress, ate his breakfast and took his meds. As I write this email, he's laying down in my office next to me just digesting and listening to all the dogs in the neighborhood do their morning chorus. As it was recommended, we're just letting him hang out at the house and get acclimated, so our focus is on letting him get lots of R&R! Blessings on everyone involved in helping him at the shelter for the last year+. You all did amazing work". It takes a village, and we are forever thankful to Bob Baker Subaru for going that extra mile for animals in need.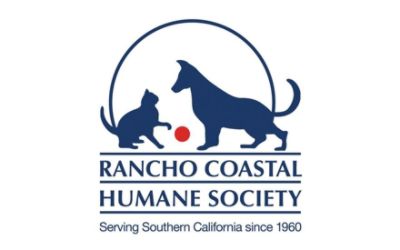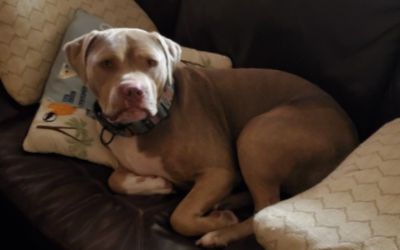 ---
Meet "Toby Keith" - Aris K
I have had a lot of loss and very tough obstacles to overcome over the last 10 years. I have had a total of 19 surgeries and lost my teaching job which I loved due to disabilities and so much more. My daughter came to live with me to help me and she brought my first grandchild and her dog. But eventually It was time for them to move out, which left me without any roommates. I started looking for a dog as a companion and each time I found one I liked they were adopted just before I could see them. This happened several times over 3 months. My daughter told me to be patient. That the right one will come along and when it does, you will know it. (Hmmm...my words coming out her mouth now.) Then I got an email saying that there were two Shiatzu's at Rancho Coastal Humane Society (I must have a hypoallergenic dog). I drove there early in the morning. There were 3 other people ahead of me and I was on pins and needles but was relieved when I found out they were looking at cats. When it was my turn, the advocate gave me a run down on the two dogs and another dog I might be interested in. At that time there we 6 people behind me. She told me 4 of the people had inquired about "Sheldon Cooper" and if I was interested, I needed to decide right there and then. I told her I would look at him first. He came into the little yard where I was seated, and he made a beeline for me and sat at my feet. I started to pet him and then he strolled around the yard a bit and came back over to me. He jumped up on me and started licking me. I am not sure who rescued who, but I knew at that moment he was mine. I was then blessed with a "Bark Box", courtesy of Bob Baker Subaru. I was so thankful. I didn't have extra money to go buy any toys or extra items, so I was very grateful for the box. It had a leash, a water dish for on the go, potty bags and holder, and several cute toys including his own Subaru car and steering wheel. It truly made my day extra special!! So now "Sheldon Cooper" has had a name change to "Toby Keith", Toby for short and we love each other. Thank you again Rancho Coastal Humane Society and Bob Baker Subaru! Aris Koutsoutis & Toby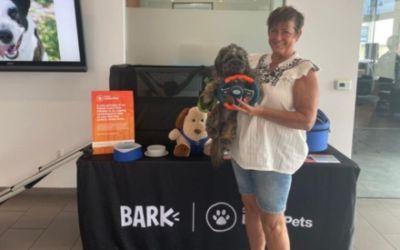 ---